Addon: Burst & Fast Switch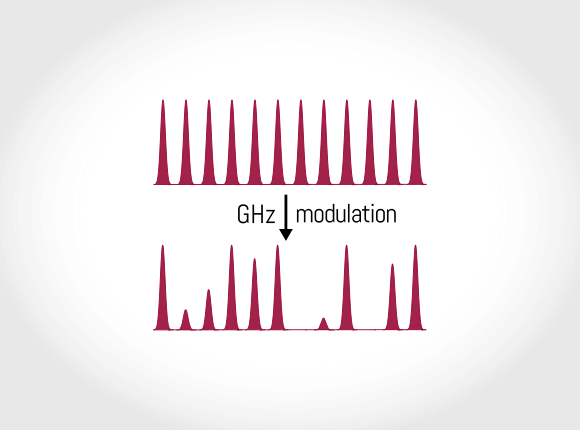 The quality of any laser application crucially depends on the performance of the driving light source, i.e. the laser itself. In addition, most applications ask for more and more average power from the laser source to be cost-effective or sensitive enough.
AFS's ultrafast fiber lasers are characterized by an outstanding performance combined with flexibility and maximum stability. All essential parameters are software controlled and can be tuned over a wide range, making them an extremely valuable tool in many applications.
SPECIFICATIONS

PERFORMANCE

DOWNLOADS

CONTACT
Addon Burst: Applying a femtosecond-pulse burst instead of an energetic single pulse holds the promise to significantly improve materials processing at highest average powers. AFS ultrafast fiber-laser systems can be operated in a burst mode with negligible variation of pulse duration over the burst and with a flexible pulse structure.
Addon Fast Switch: As a part of AFS leading-edge fiber laser technology, the fast pulse-switching feature provides an optional extension of the laser's capability. 
Single-pulse selection can be achieved up to 10 GHz repetition rate with this patented technology. Full control over the pulse sequence is guaranteed on both their occurrence and their amplitude, which can be adapted to the customers needs. Most important, the ultrafast modulator works at highest average power levels without any detrimental effects on the laser characteristics.
For further questions about this product, please contact us: